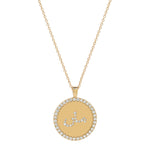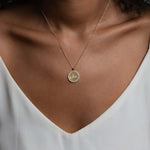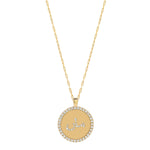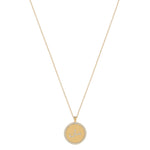 Key Features

Why Choose Our Urdu Script Mom Necklace?
✸Quality Craftsmanship: Each necklace is handcrafted with 14K gold and adorned with exquisite diamonds, ensuring a lifetime of brilliance.
✸Cultural Resonance: Representing "mom" in Urdu script, these necklaces honor a rich cultural heritage, offering a unique and personal touch.
✸Intentional Design: In the Urdu language, a circle represents the unity of the monotheistic God with the center representing God - the choice of a circular pendant was intended to bestow the highest honor by placing the Urdu word for mother at the center.
✸Perfect for Any Occasion: Whether it's Mother's Day, a birthday, or simply to say 'I love you,' this piece makes the perfect gift for the important women in your life.
✸Customizable Options: Choose from various sizes, styles, and diamond settings to create the perfect piece that speaks to you.

Details

The Urdu Mom necklace is available in solid 14K Yellow Gold weighing ~ 6 grams and framed with 1/3 carats of G Color, VS1 Clarity natural white diamonds. The pendant comes on a 1.3 mm Anchor Chain measuring 18 inches adjustable to 16 or 17 inches.