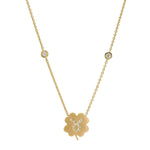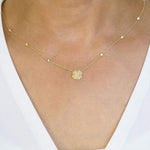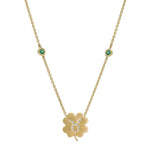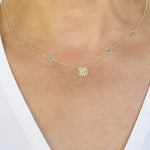 Lucky Diamond Taurus Zodiac Necklace
Key Features

✸Clover Symbolism: The clover motif signifies luck and prosperity, offering an enchanting foundation for our necklaces that celebrate personal journeys and blessings.
✸Diamond Zodiac Pendant: Centered within the clover, the diamond-encrusted zodiac adds a celestial touch, reflecting your astrological identity and energy.
✸Bezeled Birthstones: Gracefully stationed along the chain, bezeled birthstones personalize each necklace, connecting you to your birth month's unique qualities and significance.
✸Station Chain Elegance: The delicate station chain enhances the necklace's grace, allowing each element to shine individually while harmoniously coming together as a stunning whole.
✸Quality Craftsmanship: Meticulously crafted in radiant gold, these necklaces exemplify superior artistry and enduring quality for jewelry that's as timeless as it is enchanting.
✸Personalized Options: Tailored version for April Taurus (Diamond station chain) or May Taurus (Emerald station chain).
Details

Available in 2 options:

1. April Taurus: In 14K Yellow Gold diamonds-by-the-yard station chain in 16 inches, adjustable to 15 inches containing 0.35 carats of G color, VS clarity natural white diamonds. April's birthstone is Diamond which is connected with eternal love. Diamonds symbolize romance and courage.

2. May Taurus: In 14K Yellow Gold emeralds-by-the-yard station chain in 16 inches, adjustable to 15 inches containing 0.35 carats of genuine emeralds. May's birthstone is the beautiful green Emerald. Emerald represents health, faithfulness, fertility and wealth. People in some cultures believe that wearing an emerald can keep illnesses at bay.

Description:
The Taurus Zodiac Clover necklace is a meaningful way to celebrate your zodiac sign while adding a touch of personalized beauty to your jewelry collection. The Taurus zodiac is embedded in natural white diamonds in the center of a clover pendant in 14K solid gold. Diamonds are G color, VS clarity totaling 0.04 carats. Necklace weighs ~ 3.5 grams.