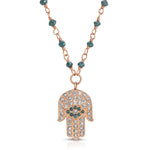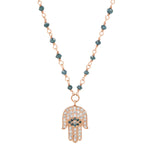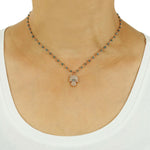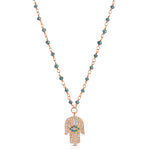 Rare Pink & Blue Diamond Evil-Eye Necklace
A unique one-of-a-kind evil-eye necklace featuring rare natural pink diamonds.The khamsa (evil-eye) or hamsa is an ancient Middle Eastern symbol of protection against negative energies and to ward off jealousy and envy. Also known as the Hand of Fatima, the Khamsa necklace celebrates good luck and happiness. Celebrate the richness of tradition with a modern twist in this unique one-of-a-kind evil eye necklace. Expertly crafted using rare pink diamonds combined with beautiful blue diamonds, the chain is handmade using natural blue diamond beads on a 14K rose gold wire.
Details

The necklace weighs ~ 5 grams. The pendant is made of solid 14K Rose Gold ~ 0.50 carats of natural Light Pink Diamonds, of VS-SI clarity and 0.10 of irradiated Blue diamonds also of VS-SI clarity. The handmade chain contains 58 Natural Blue Diamond Briolette Beads ~ 7.5 carats tcw.
Comes with a certified appraisal.