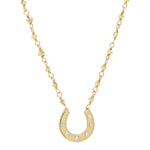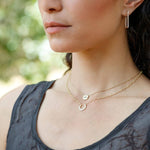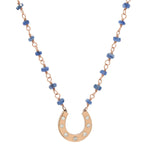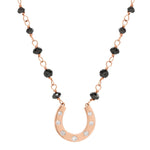 Diamond Horseshoe Charm Necklace - Bead Chain
Key Features

Symbolism of Luck: The horseshoe motif is a timeless symbol of luck and protection sas are the 7 gemstones representing 7 heavens, making these necklaces not only visually stunning but also infused with positive energy.

Radiant Gemstones: The horseshoe pendants are adorned with carefully selected diamonds, rubies or pink sapphires adding a touch of opulence and brilliance that captures attention from every angle.

High-Quality Craftsmanship: Crafted with attention to detail, our necklaces are made from premium materials and expert craftsmanship, ensuring durability and lasting beauty.

Versatile Elegance: Whether worn as a standalone statement piece or layered with other necklaces, our collection adds a touch of sophistication to any outfit.

Meaningful Gifting: Celebrate special occasions or show appreciation to a loved one with a gift that combines elegance with symbolic significance.
Details

Diamonds, the gemstone of winners are said to provide the wearer access to divine energy. Lucky horseshoe charm contains 7 natural white diamonds: 0.13 carats, G Color, VS Clarity. 14K solid Gold weight ~ 2.7 to 3.0 grams. Yellow Diamond Bead Chain wrapped in handmade 14K Yellow Gold Wire: Natural Yellow Diamond Beads I2 clarity tcw: approx. 2.56 carats.