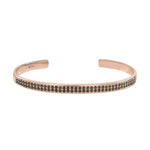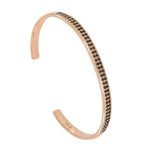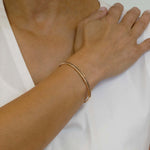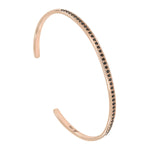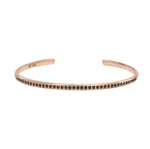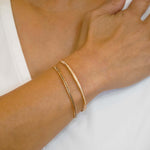 Black Diamond Contemporary Cuff Bracelet
Key Features

Versatile Design: Whether you prefer the subtle charm of a single row or the dazzling allure of double gemstones, our cuffs are designed to suit every taste.
Ease of Wear: No need to struggle with clasps or closures; these cuff bracelets slide on and off effortlessly, making them a perfect choice for the busy modern woman.
Quality Craftsmanship: Made with the finest materials, these contemporary cuffs showcase the beauty of gemstones set in a sleek design.
Customizable Options: Select your preferred type of gemstone, metal finish, and number of rows to create a piece that's uniquely yours.

Details

Single Row with 0.31 carats of Grade A black diamond (genuine enhanced) set in solid 14K Rose Gold weighing ~7.7 grams
Double Row with 0.66 carats of Grade A black diamonds (genuine enhanced) set in solid 14K Rose Gold weighing ~ 12 grams.

Inspired by all the working women who juggle many different jobs, the Contemporary Cuff Bracelet is the perfect blend of modern style and timeless elegance.

Imagine a bracelet that complements every look, from casual daytime wear to elegant evening attire. A bracelet that offers the beauty of customization without compromising ease of wear. Our contemporary cuff bracelets are more than just accessories; they're a celebration of individuality and modern sophistication.

Crafted with precision, these cuffs offer flexibility with single or double rows of beautiful gemstones, allowing you to choose the level of sparkle that suits your personality. Or mix and match for a symphony of color and sparkle.

Special Note on Cuff Purchase & Care: Please note this cuff comfortably fits wrist sizes 6.5-7.5 inches. Please exercise caution and avoid bending the cuff because this may cause the stones to fall out of their settings. We would be happy to custom make your size upon request. We reserve the right to refuse a return, or provide a refund or exchange if we receive an item that is bent, has loose or missing gemstones. See Return Policy.