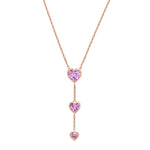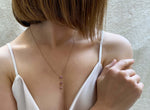 Pink Sapphire Heart Y Necklace
Capture romance with our captivating Y-lariat necklace, featuring a trio of descending heart-shaped pink sapphires, each one carefully selected for its enchanting hue and brilliant clarity. The sapphires gracefully cascade down the chain, creating a symphony of color that symbolizes love's intensifying journey. The delicate 14k rose gold wheat chain, chosen for its warm, blush-toned elegance, complements the soft pink of the sapphires, offering a contemporary yet timeless appeal. With a versatile length that's perfect for layering or stunning on its own, this necklace is secured with a sturdy lobster clasp, ensuring it graces your ensemble with a touch of sophistication for any occasion.
Details

Pink Sapphire hearts (genuine enhanced) tcw 0.82 ct.
14K Rose Gold Wheat chain length is 24 inches with the pendant. Gold weight is 3.3 grams.