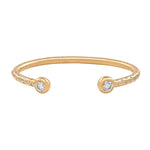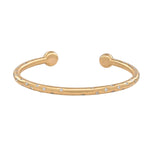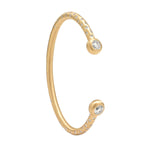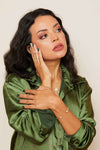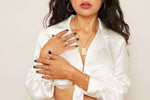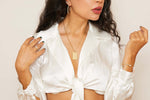 Arabian Nights Cuff Bracelet
Key Features

✸Stardust Design: Our skilled artisans have meticulously set different sized diamonds to resemble a sprinkling of stardust, creating a breathtaking sparkle that dances with every movement.
✸Symphony of Sizes: Experience the allure of diamonds in various sizes, beautifully strewn across the band with 2 larger stones offering a celestial appearance.
✸Premium Quality: Crafted with carefully selected, ethically sourced diamonds (or your choice of gemstones), this cuff bracelet offer a luminous radiance that mirrors the twinkling stars of the Arabian night sky.
✸Versatile Elegance: Whether for a special occasion or everyday wear, the Arabian Nights Cuff Bracelet provide an enchanting touch to any outfit.
✸Customizable Options: Tailor the cuff to your preference with your choice in metal and/or gemstones.
✸Timeless Craftsmanship: Each Arabian Nights Cuff bracelet reflects a commitment to quality and creativity, capturing the magic of the Middle Eastern night sky.
Features:
✸Material: Available in 18K Gold (Yellow, Rose or White) or platinum setting.
Details

The Arabian Nights Cuff Bracelet is made from 18K solid yellow gold in matte finish weighing 21 grams with different sized diamonds ~ 1.13 carats of G VS clarity. The cuff is flanked by 2 larger diamonds - a round brilliant cut diamond 0.50 ct in G color and VS1 clarity (GIA diamond grading report included) and another round brilliant cut diamond 0.40 ct in G color VS1 clarity. Intended to fit snugly for wrist sizes 6.5 to 7.5.

The Arabian Nights Cuff is only made to order. Please allow 3-4 weeks for your order.