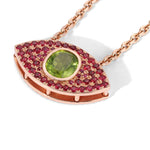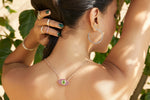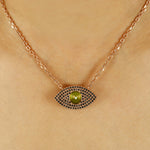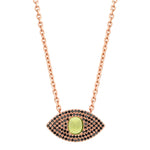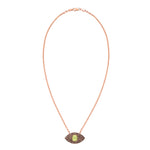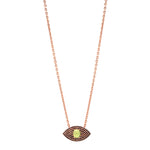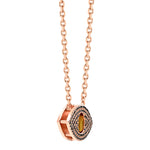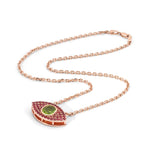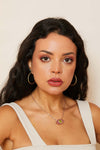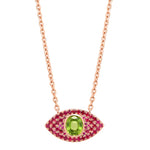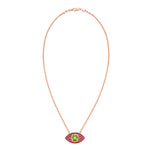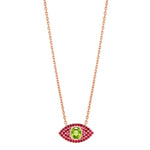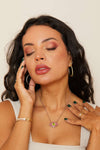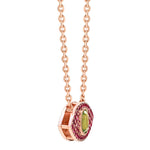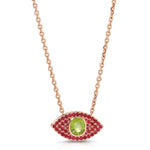 Eternal Hamsa Reversible Necklace
Key Features

Distinct Features of the Eternal Hamsa Necklace
✸Reversible Radiance: Flaunt its versatility with two awe-inspiring sides, each meticulously crafted to echo the protective essence of the evil eye and Hamsa hand.
Gemstone Galore: Revel in the cacophony of hand-picked gemstones, each representing a spectrum of nature's beauty and adding layers of significance to the piece.
✸Centerpiece Charm: The large, mesmerizing center stone acts as the eye's pupil, drawing gazes and embodying the very core of the evil eye's protective allure.
✸Timeless Craftsmanship: Each necklace is a labor of love, reflecting precision, dedication, and a commitment to the craft.
✸Symbolic Significance: More than just an accessory, it's a talisman – offering protection, blessing, and spiritual connection.
✸Unique Design: A harmonious blend of tradition and trend, ensuring you own a piece that's both rooted in symbolism and high on style quotient.
✸Ethically Sourced: Our gemstones are responsibly mined, ensuring you wear a piece that's not only beautiful but also ethically crafted.
Details

This Eternal Hamsa Necklace is made from solid 14K Rose Gold on a Rolo Chain weighing ~17.5 Grams. It contains a total of 146 gemstones bead set weighing over 6 carats in total: 2.1mm diamond cut rubies x38 pcs. = 1.75ct total; 1.3mm diamond cut rubies x10 pcs. = 0.15ct total; 1.3mm black diamonds x98 pcs. = 1.15ct total. The centerstone is a natural peridot weighing 3.0 ct oval peridot in Yellowish green hue, medium tone and strong saturation.

This product is currently sold out, but can be made to order in any gold color, carat or gemstone. A deposit of $250 is required to begin design work, which will be put towards the total price of your custom piece. Once the design is approved, 50% of the total quoted price (minus $250) is required before Azra Mehdi Jewlery will begin creating your custom piece. Please allow 6-12 weeks once design is approved. Custom pieces cannot be returned or exchanged. We will keep you informed throughout the design and manufacturing process to ensure satisfaction. See Return Policy.